Come along to watch the ex racehorse demonstration at 13.30 on Middleham Low Moor where you will see a former racehorse who has been retrained in a new career since having retired from racing.
Midnight Robbery is a 10 year old TB, He is by Dick Turpin out of Zietunzeen, formerly trained in North Yorkshire at Bryan Smart Racing, he ran 10 times and last ran August 2016. He is now owned and trained by Emma Chapman.
"I got Midnight June 2017 as a wedding present to myself! After a chat with a friend who produces English show horses and had an ROR in to produce I came up with the bright idea to retrain one to western, however once I told her my idea I had to follow it through! After a call with Vicky Smart she rang me back and said 'I've had a chat with Beck (head girl) and we think we have one for you'
Angie from Baileys horse feeds who fed Midnight when I started to retrain him drove to Bryan and Vicky Smarts yard and met midnight! I picked him up a few days later".
"Midnight was bought to prove that any horse could do western riding. And that he has done and more!
He showed in his first western show 4 months into retraining and the following year performed a display of western riding at the first ever ROR showcase at Aintree, taking good care of me as I had had a baby just four weeks previously.
Since then he has continued to compete in western trail, pleasure and horsemanship as well as appearing at ROR parades and demos throughout the country.
He is a much loved member of the family with my son riding him and leading him in and out of the field, he is always looking after the little humans and nannying some of the new racehorses learning a new trade. He may not of been a superstar on the racecourse but he has made up for it now".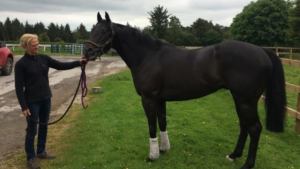 Midnight Robbery leaving Bryan Smart Racing to begin his re-training.